The NATIONAL ASSOCIATION OF REALTORS® (NAR) and Learning Library Inc. (LLI) have created an exciting package to provide State and Local REALTOR® Associations with a customized online orientation program featuring a standard NAR national module.

Quickly, efficiently and affordably offer your members the official NAR National Orientation module with the option to add your own state and local content.


Click here to view
a preview module © 2017 NATIONAL ASSOCIATION OF REALTORS®. All rights reserved. This content is intended to be viewed solely in the medium provided by NAR and may not be reproduced, distributed, performed, displayed, modified, or otherwise used without NAR's written permission. Please contact Kim DiGangi at kdigangi@realtors.org for more information.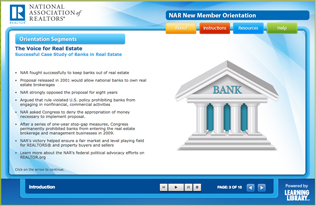 Welcome from 2017 NAR President Bill Brown
The Power of the REALTOR® Brand
The Three-Way Agreement
REALTOR® Trademark
The Voice for Real Estate
Industry Advocacy
Member Involvement
Outreach to Consumers
.REALTOR Domain
realtor.com®
Information & Education
Continuing Education & Professional Development
Events & Networking
Exclusive Member Benefits
Code of Ethics
Realtors Property Resource®
REALTOR Benefits® Program
REALTORS® Federal Credit Union
Member Value Plus (MVP) Program
Research
Technology
Giving Back to the Community
REALTOR® Professionalism
REALTOR® Safety
NAR has negotiated preferred pricing with Associations that wish to offer this national online orientation module to their new members.


| Module User Fees | Per Student, Association Pays | Per Student, if Student Pay |
| --- | --- | --- |
| NAR Orientation | $4.50 | $5.50 |
| NAR Orientation + up to 90 mins additional local | $4.50 | $5.50 |
| NAR Orientation + up to 91-120 mins additional local | $7.50 | $8.25 |
| NAR Orientation + up to 121-180 mins additional local | $10.50 | $11.25 |
Customize the module with your own localized content and will build it for you for FREE* or for a nominal fee
Your version will be private labeled, tablet-compatible, and SCORM compliant.
Production includes the content of your choice, instructional design and all web production (Writing is not included).
Change or update content at same low costs below.
No hidden costs – LLI will host, transact, report and provide technical support. You just market to your new members.
| Module Production Fees* | Fee to Board / State | Fee to Board / State if mandatory* |
| --- | --- | --- |
| NAR Orientation only(co-branded to you) | $0.00 | $0.00 |
| NAR Orientation + up to 90 mins additional local | $500 | $0.00 |
| NAR Orientation + 91-120 mins additional content | $750 | $0.00 |
| NAR Orientation + 121-180 mins additional content | $999 | $0.00 |
| Additional development fee for every 90 mins of content ($250 min) | $500 | $500 |
| Change or update free for every 90 minutes of content($250 min) | $500 | $500 |
*Note: development is free if Module is designated mandatory to all new members and if volume per year is in excess of 750 users per individual state or local instance. If not mandatory and the minimum is not reached the local board or state is required to pay the fees listed in previous column.
Contact us for details at orientation@learninglibrary.com